Diversity, equity and inclusion

Our journey and pillars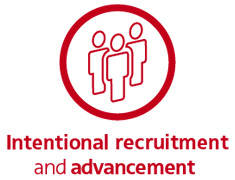 Diversity, equity and inclusion (DEI) are foundational to the American Airlines culture and are embedded into the fabric of who we are as a company. We are the global leader in commercial aviation, and therefore must carry the banner around the world for DEI. We will lead the industry in DEI by:
Hiring, engaging and retaining the best and brightest talent for growth
Delivering excellence in our operations to serve and expand our global markets
Ensuring the diversity of our team reflects the diversity of our global customer base
Driving industry innovation to build competitive advantages
Progress on Our Diversity, Equity and Inclusion Journey Opens another site in a new window that may not meet accessibility guidelines.
Creating a workplace for all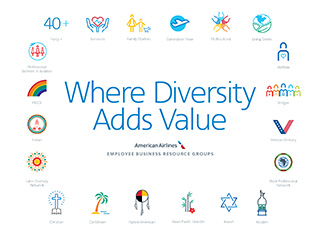 From the team members we hire to the customers we serve, diversity, equity and inclusion is a way of life at American Airlines. Every day, our team members work to make American a place where people of all generations, races, ethnicities, genders, sexual orientations, gender identity, disabilities, religious affiliations and backgrounds feel welcome and valued.
Our Employee Business Resource Groups (EBRGs) connect team members to customers, communities and global mission to have a positive impact. Learn more about EBRGs from the DEI Fact Sheet and about our team members from the environmental, social and governance (ESG) report.
Our culture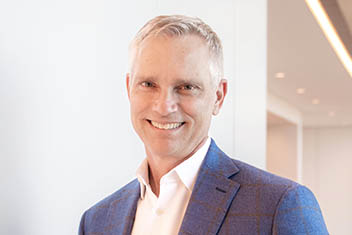 "At American Airlines, embedding diversity, equity and inclusion in all we do is critical to our success in making culture a competitive advantage and creating the best airline for our customers. We will continue to recruit, develop and retain the best and brightest talent with diverse backgrounds to help us innovate and build deeper connections with all who fly with us. We're proud of the strides we've made in DEI and recognize there is always much more work to be done. Progress is made through intention, investment and action, and that's our focus on the journey ahead."
— Robert Isom, Chief Executive Officer
Honors for diversity
We have a long history of diversity, equity and inclusion at American, and we've received recognition among other corporations for our leadership.