American Airlines app

Travel made easy
Download our app for free and use it to manage your travel on the go. From booking and seat assignments to your boarding pass and airport maps, we're with you every step of the way.
New features
Chat with us
AAdvantage® members can now connect directly with a team member in our new live chat feature. When we're unavailable, you can also get 24 / 7 virtual help in the tool.
To start using chat:
Become an AAdvantage® member
Download and log in to the latest version of the app
Tap the chat bubble icon on the app home screen
Watch free entertainment
Stream our library of free inflight entertainment to your device with the app
Food on the go
Preorder food from airport restaurants and pick it up before you board
Same-day changes
Plans change – choose a different flight on the same day (fees may apply)
Instant rebooking
If your flight gets delayed or canceled you can move to another one – no lines needed
Track your bags
Check the status of your bags inflight; make delivery plans if delayed
Personalized experience
Stay signed in to get info specific to your trip, right when you need it
Available on the Apple Watch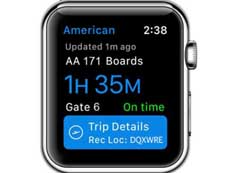 The right travel information, when you need it – with just a glance at your wrist.
View upcoming trips
Check driving time to the airport
See where you are and when you'll land
Get connecting gates and baggage claim info